CFK Weekly: April 4, 2007

Bringing you the most up-to-date and relevant news, research and policy developments affecting children, youth and families.April 4, 2007
In This Issue
Resources for Reconnecting Youth
Not a subscriber?

Quick Links
Connect for Kids
Forum for Youth Investment
Editor's NoteSpring, a time when young people's thoughts turn to ... college, and whether they're prepared academically and financially to enroll. Check out the April 13 AYPF forum on opening college doors to immigrant students, and a Perspectives article covering one family's journey toward College for All.On the other end of the age spectrum, a new child care study has sparked debate about the impact of care on children's behavior. Congress is readying to renew Head Start, and NAEYC has some specific ideas about how that should go down. The Future of Children looks at teacher excellence from several angles, and the 10th annual Technology Counts report finds schools are getting wired, but is it paying off for students?
If you missed Holly St. Lifer's article, "Youth Movement, the Extreme Version," you'll find it on the homepage of the Connect for Kids Website. And keep us posted on your work, everyone.Caitlin Johnsonweekly@connectforkids.org
To read PDF files, download the free Adobe Reader.
Resources for Reconnecting Youth
Forum: Opening the Door to the American Dream -- Increasing Higher Education Access and Success for Immigrants (April 13)Latino immigrants and those who arrive in the United States as teenagers are the groups least likely to hold a college degree, according to AYPF. This Washington, D.C., forum will examine a new Institute for Higher Education Policy report on the educational barriers legal immigrants face, and ways that flexible, effective policies can help more people earn college degrees. Birthright: Access to CollegeThe statistics can be staggering, but in the latest issue of Perspectives, Ray Bacchetti, Carnegie Foundation scholar-in-residence and former vice president of Stanford University, shares a more personal story of the importance of a college education to three generations of his family -- starting with grandparents who did not have the opportunity to go to college. An online forum allows you to engage with the author.
Tools for Advocates
A Guide For The Powerless, And Those Who Don't Know Their Own Power Many educators, community leaders, youth workers, other human service persons, and young people feel apolitical, cynical, or timid about the political process, even though it can be a powerful tool for advancing their work. This AYPF guide can help people reach lawmakers and administrative powers, build human relationships, understand and engage with those who control funding, and more. Free for youth-related groups. For more information, contact Christine Veney, AYPF's D.C. officer, 202-775-9731.KidBits: Using Data to Drive Better Outcomes for Children and Youth (Washington, D.C.)
In Washington, D.C., poverty is rising and becoming more concentrated in neighborhoods where there are the most kids, according to DC Action for Children. This report, from their Children's Advocacy Roundtable project, looks at city data in six areas -- school readiness, school success, healthy children and youth, youth opportunity, children and youth in stable families, and youth transitioning to adulthood -- and recommends specific actions to improve policy and outcomes for children. The Center for Community Research and Solutions (Los Angeles)The Institute for the Study of Homelessness and Poverty has just re-launched as the Center for Community Research and Solutions, run by United Way of Greater Los Angeles. Among the resources to help children's advocates address policies and strengthen communities:
Child Care and Early LearningChild Care and Behavior ProblemsA new study from the National Institute of Child Health and Human Development -- the largest-ever U.S. analysis of child care and development -- found that by fifth and sixth grade, children who had spent more than 10 hours per week in the care of someone other than their mother had better vocabulary but more behavior problems than their peers. Researchers were careful to note that parenting quality was a much better predictor of child development than time in care, but the study has touched off much debate.For more on the study, see: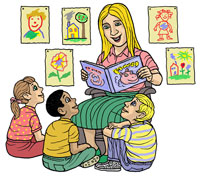 The Kids Are Alright: What the Latest Day Care Study Really Found In Slate, Emily Bazelon criticizes the press for "leading with the bad news and for ignoring the researchers' caveats that no cause-and-effect conclusions can be drawn from their data." The few differences between kids who spent time in early child care and their peers seem largely influenced by parenting.
Making a Difference: Excellence in Early Childhood EducationThe House and Senate are expected to conference on their respective Head Start reauthorization bills in the coming weeks, with floor action possible this month. NAEYC has issued a call to action for Congress that offers concrete recommendations to strengthen federal partnerships with states, communities, programs, and families and give all children access to excellent early childhood education Quality Child Care - A Guide for Working ParentsIn a recent California Federation of Teachers survey, working parents ranked pre-school/child care as one of the most important issues they face, essential to their ability to work. This guide offers facts and community resources to help Californians find child care and help unions and businesses do a better job ensuring access to quality child care.
Child Care Counts: Supporting Work Participation and Family Self-Sufficiency (CA)This report looks at how the child care community can help California and its counties meet new federal work and data reporting requirements under the Temporary Assistance to Needy Families program. Published by the Child Development Policy Institute and The Foundation for Early Education.
Making Work Count
Supporting Work in Illinois: The Challenges AheadIn Illinois, benefits like the earned income tax credits, health insurance, and child care subsidies can help low-wage workers provide for their families. But small increases in earnings can trigger sharp reductions in benefits, leaving families worse off. This new National Center on Children in Poverty documents the problem and recommends policy changes "to ensure that it always pays to work more." The NCCP Family Resource Simulator is an interactive tool that brings to life the impact of federal and state benefits on families' budgets.
Meeting the Employment and Parenting Needs of Low-Income FamiliesMaterials from the March 27 Chapin Hall Web conference are now online. The Impact of State Income Taxes on Low-Income Families in 2006In 19 of the 42 states that levy an income tax, a two-parent family of four with a poverty-level income of under $20,615 will owe taxes for 2006, according to the Center on Budget and Policy Priorities. However, several states with very low tax thresholds have recently made changes that should save low-income families hundreds of dollars in taxes over the next three years.
Education News
The Future of Children : Excellence in the ClassroomThe latest Future of Children Journal focuses on improving teacher quality in order to close the achievement gap. To improve teacher quality, the authors say, we must broaden entry requirements, identify and promote effective teachers, provide additional pay to successful teachers who work in challenging schools, and promote meaningful professional development. See also:
Renewing No Child Left BehindCongressional reauthorization of the No Child Left Behind Act (NCLB) is expected this year. Here are two distinct policy recommendations:
The National Collaboration for Youth offers specific components to make sure all young people

graduate from high school

ready for college or meaningful work. These include steps to boost attendance, strengthen teens' connections to school and community, build skills, and support social and civic responsibility.
The National PTA says Congress can improve the

parent involvement

provisions of NCLB by: ensuring local flexibility and accountability, providing parents with real and multiple opportunities, generating clear data and tools for parents and teachers, and reaching out to the community.
Technology Counts
How well are our schools doing in using and teaching with new technologies -- and where do we go from here? Most classrooms are doing better than they ever have, with access to multimedia computers and the Internet, high-quality software, and trained teachers. However, these gains are not yet translating into improved achievement, according to the 10th edition of this Education Week report.
Health Care
RWJF Offers $500 Million to Fight Childhood Obesity
The Robert Wood Johnson Foundation is pledging at least $500 million over five years to "reverse the epidemic of childhood obesity in the United States by 2015." The funds will focus on increasing access to affordable healthy foods and opportunities for safe physical activity in schools and communities.

Spotlight on: Teachers for Healthy Kids Collaboration (CA)An innovative collaboration in California brought health care coverage to 150,000 previously uninsured students through outreach programs in the public schools. The project is a collaboration between the California Teachers Association and the California Association of Health Plans.Should Parents Be Covered by SCHIP? (April 12)Parents who have insurance may be more likely to have a stable "medical home" and seek preventive care for their children than uninsured parents of insured children. Some states have extended the State Children's Health Insurance Program (SCHIP) to cover low-income parents -- but this may be a sticking point as Congress debates how to reauthorize SCHIP. Get the story in this Urban Institute panel in Washington, D.C., from 9 - 10:30 a.m. Materials will be posted online afterwards.
Food and Nutrition
Summer Food Standards of Excellence This Food Research and Action Center guide can help organizations using the Summer Food Service Program to plan their efforts. It includes a look at quality food sites and examples of what works to attract kids and offer healthy meals.Families' Food Stamp Benefits Purchase Less Food Each YearThe title of this Center on Budget and Policy Priorities report says it all. This year, food stamp benefits average only $1.05 per person per meal. Changes in the 1996 welfare law have been eating away at the purchasing power of food stamps every year. By 2017, a year's worth of food stamps for a typical working parent of two will be more than one and a half months short of the amount available before the 1996 law.
Caitlin Johnson and Thaddeus FerberConnect for Kids and the Forum for Youth Investment