---
"Can This 17-Year-Old Save America's Education System?"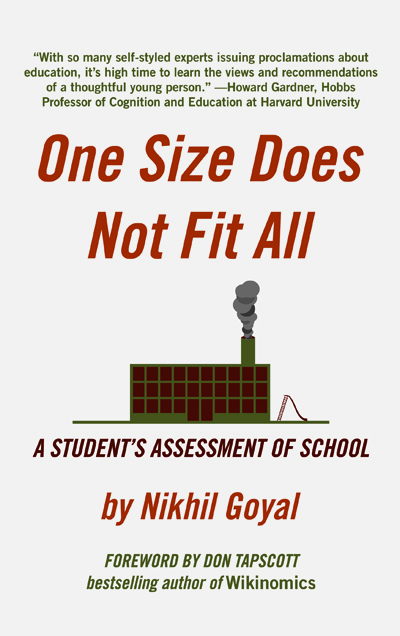 Nikhil Goyal, 17, is a senior at Syosset High School in New York, and author of the new book, One Size Does Not Fit All: A Student's Assessment of School.  In his book and in his various talks around the world, Goyal argues that the current education reform conversation lacks the most important voice of all: the voice of the student.
The summary of the book reads:
Every nine seconds, a student drops out of school. Why? For a majority, school was not relevant to them. The education system isn't broken - it's doing exactly what it was intended to do so - create compliant cogs in machines. It's outdated. It's dangerous. And it's suppressing millions of children around the country.
In One Size Does Not Fit All, 17-year-old Nikhil Goyal offers a groundbreaking prescription for transforming American schools. Drawing from hundreds of interviews with renowned thinkers like Howard Gardner, Seth Godin, Dan Pink, Noam Chomsky, Diane Ravitch, and Frank Bruni, Goyal calls to radically redefine the way the country does schooling. From implementing an anti-disciplinary curriculum to reinventing the teaching profession, his propositions are timely and provocative. Goyal walks us through the tenets of the system, shattering claims dispersed in the education conversation.
He presses questions like: What if school wasn't school anymore? What if we tailored education to every single child? What if students' voices were heard and seen as human beings, not numbers in a spreadsheet? What if school became an incubator of innovation and a bridge between the community and the world?
The book will drive a long-overdue call to action. A generation is a terrible thing to go to waste.
One Size Does Not Fit All is a provoking and indispensable manifesto to read as millions of kids begin to start the new year in schools that have let them down year after year after year. Goyal declares that we need to cultivate our forces of imagination and creativity for a new age of humanity. No reforms. A revolution.
While many books have been written about education reform in the United States, this is the first that comes from a young voice. In his book, speeches, and website, he lays out three fairly simple, straight forward tasks for American schools to help improve: get rid of standardized tests, reinvent the classroom the encourage creativity, and creating a culture in which teachers are valued -- and paid for that value.
So, is he on the right track? Can these suggestions, coming from a teenager, give us the boost to think stronger, louder, and more logically about the fate of America's education system? 
We can only hope so.  Check out some of Nikhil's appearances at international TEDx events and televised in the videos below. You can also learn more about him on his website, and get information about his book, which was released in Fall 2012.
Also read:
Can This 17-Year-Old Save America's Education System? Forbes, September 2012