---
Making Sense of the 2011 Census Poverty Data: Analysis & Reactions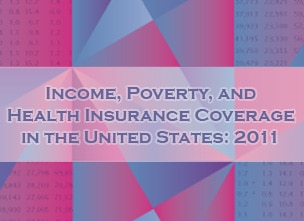 In September 2012, the U.S. Census Bureau released the official 2011 poverty data, analyzing the level of poverty among American families.
What are we to make of the data? We're gathering reactions and analyses from across the child and youth field. Please continue to check back here as reactions roll in.
Curious to see how things have changed in a year? Check out the reactions to and analyses of last year's poverty data.
UPDATE SEPT. 20: The Census Bureau released American Community Survey (ACS) data for 2011 (PDF), with reports showing state and metropolitan area poverty and income, as well as a separate report showing health insurance coverage for 19 to 25 year olds - an age group that gained health care coverage through the new health care law.
Reactions from the Field
National

5 Things You Need to Know about the 2011 Poverty Data | Center for American Progress
"Just looking at these headline numbers misses some of the most important things the data tells us about growing income inequality, the state of the middle class, the role of public policy in alleviating poverty, and how the key policy choices in front of us on jobs, health care, budget, and taxes could affect these trends for years to come."
 
ObamaCare Is Delivering Real Help to Millions of American Families | Families USA
"The new Census Bureau report about uninsured Americans provides clear and unmistakable evidence of the current benefits of ObamaCare and the need to move forward with the full implementation of the law in 2014."
New Poverty Data and the Need for Urgent Action to Ensure Shared Economic Growth | Half in Ten leaders
"...Half
in Ten, the campaign to cut poverty in half in 10 years, urged Congress and the Obama administration to take immediate action. Half in Ten's leadership react to the data showing that the rate of Americans in poverty held steady at 15 percent, median incomes declined by 1.5 percent, and 1.4 million people gained health care coverage."
 
Census: The Middle Class Shrinks to an All-Time Low | The Washington Post
"As a snapshot of a nation recovering from one of its worst recessions, the census statistics showed an upper class that has more than regained its losses and a lower class that has found a floor to their fall."
More Children and Families Have Health Insurance | Voice for America's Children
"Although this is encouraging news, more work remains until every child has coverage for their health care needs and access to a quality provider, especially for those living in poverty."
Some Encouraging News about Poverty—and the Role Of Government | National Women's Law Center
"What's the biggest lesson to take from these data? The government programs in place are working, but they need to be strengthened—not cut. Policy makers will help determine whether this time next year, the news is more encouraging – or worse."
2011 Data Show Strong Safety Net Successful at Keeping Millions from Poverty | Jewish Council for Public Affairs
"We continue to be saddened by just how many have been living in poverty but are encouraged by the success of programs like SNAP and unemployment insurance at keeping many out of more dire straits."
Census Numbers Show Drop in Rate of Young Uninsured Americans | Young Invincibles


"Today's numbers show exactly how young Americans are benefiting from the ACA. The ability to join a parent's health plan has allowed millions of young adults up to age 26 to gain quality, affordable coverage."
Also see Young Invicibles' fact sheet on the Census data and how it relates to young Americans (PDF).
 
Statement on Census' 2011 Poverty, Income, and Health Insurance Data | Center on Budget Policy and Priorities
"Today's Census data contained the good, the fair, and the ugly.  The good news is that the number of uninsured Americans dropped by 1.3 million and the share of Americans without insurance fell by more than in any year since 1999; the fair news is that the poverty rate stayed flat after rising in the previous three years and seven of the previous 10; and the ugly news is that median household income fell by 1.5 percent after adjusting for inflation while income inequality widened significantly."
 
More Work, Less Income on 2011 | Center for Economic Policy and Research
"In short, more than 2 million Americans were working year-round, full-time. But full-time workers were more likely to be working in poorly compensated jobs. As a result, median income for all year-round, full-time workers fell by 2.5 percent."
Ignoring Poverty Will Not Make it Go Away | No Kid Hungry and Share Our Strength
"The official poverty figures released today underscore the devastating human cost of our economic struggles and political paralysis. Such deep and prolonged poverty puts families and children all across the country at risk, and threatens to impede the health, education and economic competitiveness of an entire generation and, in turn, our national wellbeing."
Growing Income Inequality, Continued High Poverty Point to Need for Sustained Support for Workers, Families | CLASP

"This report is a clear sign that there's tremendous need for government action to promote job growth, modernize jobs, help poor children get off to a solid start, and strengthen the safety net for families in hard times."
Also see CLASP's commentaries in the Huffington Post, "When a Headline Isn't News: Child Poverty Persists" and "Shelter from the Storm" and a related video.
The Poverty Rate Steadies and Children Remain the Poorest | CWLA

"According to the latest Census data released today, 22 percent of children are poor and the overall poverty rate remains steady at 15 percent. Shamefully high, 46.2 million people are in poverty, struggling to meet their basic needs let alone help their families thrive. Many families in poverty are resilient, but for too many it is an intractable barrier to securing health and safety."
RESULTS Responds to Census Bureau's New Poverty Data | RESULTS

"The new Census data reinforces what we've known already — that too many of our fellow Americans are struggling today, and that anti-poverty of programs like the Earned Income Tax Credit (EITC) and the Supplemental Nutrition Assistance Program (SNAP, formerly known as food stamps) work."
Also see RESULTS' comprehensive action page around the Census data and how you can use it to make a difference. 
Census Numbers on Poverty Did Not Rise | National Center for Children in Poverty

"While we have a long way to go, this report offers some hope that low-income families may soon begin to see some improvement in their circumstances. Especially encouraging is evidence of growth in the number of low-income workers who have found year-round, full-time jobs."
 
Census: Uninsured Numbers Decline As More Young Adults Gain Coverage | Kaiser Health News

"Surprising some experts and giving President Barack Obama a potential boost eight weeks before Election Day, the number of people without health insurance fell for the first time since 2007."
Poverty Rate Holds Steady; Greater Investment in Family Economic Security Still Needed | Wider Opportunities for Women

"A strong American economy is created and measured by the economic security of working American families. The poverty release is an important reminder that the recession and the strains of low wage work and unemployment are far from over for too many hard working, low income families. As we collectively work to rebuild our communities' stability, we must both fight poverty and promote genuine economic security."
 
State/Local

Preliminary Data on Poverty in the Nation Shows Hardship Persists | North Carolina Justice Center
"
The new data shows that many North Carolinians are still struggling to get by, and we need to step up our efforts to help. Policymakers must focus on closing the jobs deficit and ensuring supports for working families in tough times are available."
New Texas Poverty and Uninsured Numbers Make the Path Forward Clear | Center for Public Policy Priorities

"We are encouraged by the Census Bureau's preliminary report that more Texans have the security of health insurance coverage. The data show the overall uninsured rate slightly improved thanks to the Affordable Care Act ... But U.S. Census Bureau data show the number of Texans living in poverty remains stubbornly high and unacceptable."
Statement on New Census Poverty and Health Insurance Data | Action for Children North Carolina

"These data showcase the value of strategic public policy interventions to protect the well-being of North Carolina's most vulnerable population, our children."