---
These Are Uncertain Times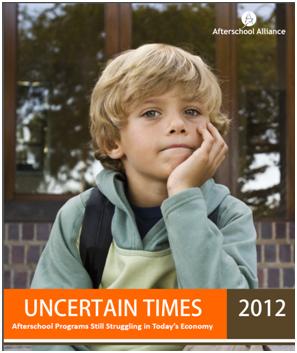 Over the course of the last several years, parents, children and communities across our country have found themselves fighting an uphill battle—facing unemployment, food insecurity and a slow economic recovery.  Afterschool programs—that are a safe haven for children in the hours before and after school, give working parents peace of mind, feed kids nutritious snacks and meals, and offer an enriched learning environment—also find themselves confronted with economic hardships and struggling to fully meet the needs of their communities. 
Our new report, Uncertain Times 2012: Afterschool Programs Still Struggling in Today's Economy, shows that afterschool program budgets are shrinking, program services are stretched thin and programs are not able to reach all the children in their community who would benefit from their services.  What's more, for the programs that work with communities that are most in need of afterschool programs, the situation is even more serious.
Six years ago, we surveyed afterschool providers to better understand the economic landscape of afterschool programs.  The results were sobering.  We found that programs were struggling to maintain their funding and an overwhelming majority of providers said that more children in their communities could benefit from afterschool programs.  Unfortunately, despite the end of the recession a few years ago, our 2012 survey finds that programs today are not faring much better. 
How can we help afterschool programs that continue to struggle in today's economy?  This report highlights the overwhelming need to increase investment in afterschool programs.  Increased funding for 21st Century Community Learning Centers and the Child Care Development Block Grant; allowing existing federal funding streams—such as those for science, technology, engineering and math (STEM); skill-building; and youth health initiatives—to help support afterschool programs; and including language on before-school, afterschool and summer programs in the Workforce Reinvestment Act and the Juvenile Justice and Delinquency Prevention Act will give afterschool, before school and summer learning programs the support they desperately need. 
There is nothing uncertain about an investment in afterschool.  Investment in afterschool programs is an investment in a safe and supervised environment for children to go after school, before school and during the summer; an investment in activities that excite children about learning; and a much needed investment to support working families across America.
---
This article was originally published on Afterschool Snack, the blog of the Afterschool Alliance. It is reprinted here with permission.